Mecademic Robots
Discover the world's most compact, precise, and easy-to-use small industrial robots from Mecademic.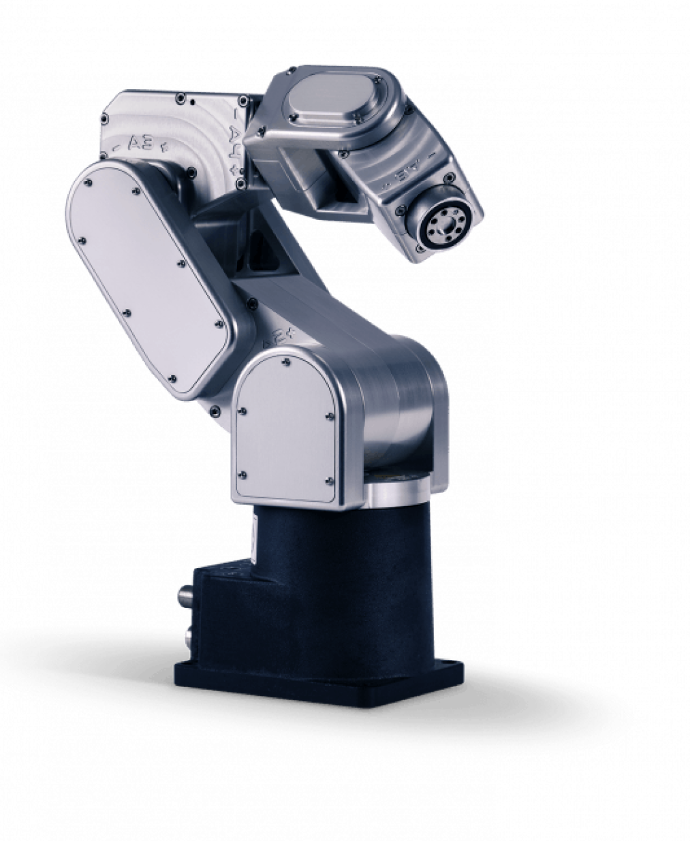 Compact, precise industrial robots for micro automation
Setting new standards in precision, footprint, and flexibility to accelerate small component automation for manufacturers and innovators.

Minimize Footprint
The Meca500 is smaller than any industrial robot arm. Featuring an embedded controller, it is also unbelievably compact.
Reduce Tolerances
Built with precision-machined aluminum and zero-backlash gearboxes, the Meca500 is the world's most precise six-axis robot. It boasts a repeatability of 5 μm
Facilitate Robot Arm Integration
The Meca500 is a plug‑and‑work automation component, easy to interface with any computer or PLC. Easily operate the robot using any programming language you prefer.
Benefit from Flexibility
The robot is easy to mount in any orientation. It automatically compensates for gravity, without requiring any software adjustments. This added flexibility enables easy integration in a wide variety of settings.

Inspection & Testing
Mecademic robots provide an automated inspection system with maximum precision, space, time, and cost efficiency. By using Mecademic's robot arms with a position repeatability of 0.005 mm, the consistency in testing and inspection improves, ensuring consistent product quality. Our robots easily integrate with existing platforms for inspection, reducing development time, thanks to multiple interface options. They offer flexibility in the design of automated robot inspection systems and can be mounted in various orientations, allowing for a minimal footprint within the robot cell. Mecademic offers the possibility of scaling down automated robot inspection systems and standardizing the application as an OEM product platform, reducing costs and development time. Using Mecademic's solutions, customers benefit from precise and consistent inspection and testing processes and can optimize their automated robot inspection systems for their specific needs.

PCB Shield Insertion

Proof of Concept utilizing a Mecademic robot. The system incorporates an Arduino microcontroller to control the process. The robot is tasked with snapping the shield into the PCB in 3 places. A load cell feeds back the force to ensure the necessary force is achieved but not exceeded. A Micro Epsilon laser sensor attached to the robot then measures the height of the shield and the PCB at each insertion location and calculates the height to ensure the proper insertion depth has been achieved.

Micro-Assembly of Ocular Needles

Three of the smallest and most accurate industrial robots in the world are working together in an application that requires highly precise positioning, with an exactitude of 60 microns (about the thickness of a human hair!). These robots are being implemented in processes like these all around the world, bringing automation solutions to highly complex processes, thereby increasing throughput and skyrocketing efficiency. A video showcases the assembly of microneedles used in ocular surgery, a task that demands extreme precision. The Meca500 from Mecademic is unique from other robot arms, which are usually stand-alone complex systems. In contrast, the Meca500 is a plug-and-work automation component, acting as a slave rather than a master. This makes it very easy to integrate via any computer or PLC. The application, done by Seymour Advanced Technology, is a testament to the innovative capabilities of modern robotics.
Component in Turnkey Automation Cell

The Meca500, featured in this video, serves as a vital automation component in turnkey automation cells. Its precision and adaptability are on full display as it is used to sort components based on color. Working in harmony with other advanced technologies, the Meca500 demonstrates its ability to handle complex tasks with ease, showcasing its potential as a key player in modern automation solutions. Its integration into this cell exemplifies how it can be leveraged to enhance efficiency and accuracy in various industrial applications.
---
Meca500 Information Request