Motion Control and Mechanics
Motion Control Integration
For more demanding applications that require coordinated motion, camming, electronic gearing, or integration with other kinematic models, we more than ready to step in and assist.

Motor Sizing and Selection
Our skilled team of engineers perform sizing and motor selection services daily, and are more than prepared to help you with your project. See our list below of our vendors and let us know how we can help.

Application Reviews & Assistance
We will help you review the dynamics of your application and select the right servo system for you. We know motion can be complex and difficult at times, so we're here to help where we can.

Solution Spotlight: Custom Gearing
With many custom gearboxes, prices can be two to three times the cost of traditional gearboxes. Working with our leading gearing partners, we're able to help you develop modified standards without crazy costs or lead times. These solutions are popular with our clients in the defense, medical, & aerospace sectors due to the capability of outfitting the gearbox with high RPM input capabilities, shock and impact loading / protection, and extreme temperature ranges.

Featured Resource: Yaskawa VFD to Rockwell PLC in Under 60 Seconds
Here you can see one of our engineers seamlessly hooking up a Yaskawa GA500 Microdrive to a Rockwell PLC in less than 60 seconds!
Having trouble with lead times on drives? Let our engineers see what we can find for your application!
At BlueBay, we're experts in motion control. We partner with the industry's leading manufacturers to provide you the best-of-breed solution. Below, you'll find a list of those manufacturers.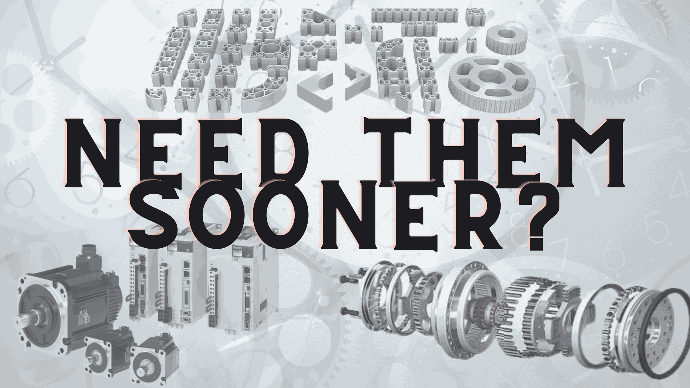 We'll Find Your Parts That Are In Stock
When lead times get tough, reach out to our team of application engineers. We've been helping manufacturers of all shapes and sizes replace part numbers with crazy lead times, and find suitable replacements from reputable manufacturers!
---
Motion and Mechanics Inquiry