PreciseFlex by Brooks Automation
For years, traditional industrial robots focused on increasing payload capacity, speed and repeatability. Over this time, these robots have gotten bigger, stronger and more dangerous while still relying on their complex proprietary programming languages. Now a new generation of "collaborative" robots that focus on built-in safety and ease-of-use have enabled non-traditional robot users to automate processes that could not be addressed before. These collaborative robots are safe to use without shielding, which permits them to be deployed more easily and in environments where space and access to the workcell while the robot is operating are critical.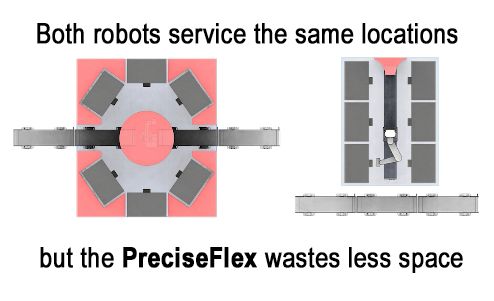 PFDD Direct Drive Robot
The newest addition to the PreciseFlex family
Features
Heavier payloads at 6kg and 8 kg

Direct drive robot design so they are faster and still collaborative

Embedded controller

Ideal for mobile applications

Can have Z axis up to 1.4 M

Longer reach plus base rotation
PF3400 SCARA
The world's safest, fastest robot
Features
1.4 Second cycle time & no shielding

Mixed Manufacturing Environment

Space Saving Design with Huge Working Volume

Powerful Easy-To-Use Software

Unique Collaborative Features
PF400/300 Sample Handlers
The Industry Standard in Life Science and Lab Automation

Features
Optimized for benchtop laboratory applications

Safe to use without shielding

Powerful motion control
PP100 Cartesian Robot
The World's Only Collaborative Cartesian Robot

Features
Safe Mixed Manufacturing Environment

Cost and Space Saving Design

Simple to Program and Teach

Unique Collaborative Features
See how to save $35,000 on an equipment purchase of $100,000 easily with Section 179!

PreciseFlex Information Form