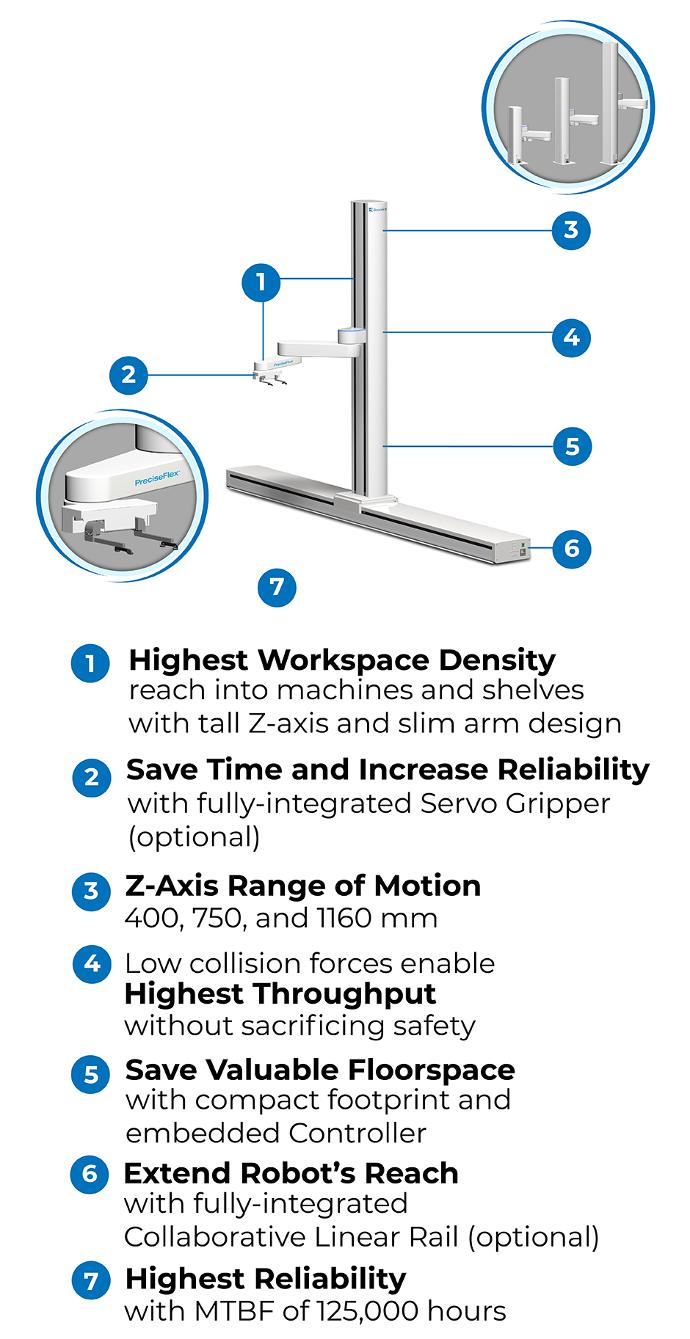 PreciseFlex 3400 Cobot
Payload: 3 kg | Horizontal reach: 588 mm
The PreciseFlex 3400 cobot is ideal for many small parts handling and assembly applications delivering the highest reliability available. Available with 400, 750, and 1160 mm vertical reach, the cylindrical column work envelope keeps the footprint small and enables reaching into shelves, racks, and machines. Industrial applications include Machine Tending, Part Transfer / Pick & Place, PCA Handling & Test, Small Parts Handling, Agricultural Picking/Pruning, and Mobile Cobots.
Lab Automation applications include Pathology, Liquid Sampling, Sample Handling, Specimen Sorting, Modular Lab Automation, and Mobile Cobots.
The optional collaborative linear rail extends the reach of the robot by 1.0, 1.5, or 2.0 meters. Our linear rail is inherently collaborative.
With their space-saving footprint and highest workspace density, PreciseFlex robots make the most of your floor space. The controller is embedded in the robot, and there are no bulky robot cables to deal with. Additionally, PreciseFlex robots can reach into shelves and racks from top to bottom providing access to stacked parts. allow you to stack parts in shelves and racks, further reducing the system footprint.
Optimized for Lab Automation
These products are available in a four axis configuration with a servo gripper for handling laboratory plates stored in stacks or in a three axis configuration with a servo tube gripper for handling cylindrically shaped samples from a sample rack. These robots are also available with a linear rail to service multiple stations. Their servo grippers permit these robots to pick up a wide variety of different size samples without using expensive and complicated tool changers. In addition, with servo motors on all of the axes including the gripper, the PF400/300 provide facilities for collision/drop detection and squeeze force control not found in other autosamplers
​Mixed Manufacturing Environment​
Collaborative robots potentially allow for the creation of a mixed manufacturing environment where people can enter and efficiently work around robots without the loss of throughput. However, most "collaborative" robots must move slowly or use a reduced speed collaborative mode, losing productivity whenever users are near. The PF3400's unique combination of speed/safety allows it to operate at full speed and deliver industrial throughput in applications where operators can move freely around the robot without concerns for their safety or impacting production

Safe to Use Without Shielding
The PF3400 include safety features that disable motor power when a minimal, unexpected force is encountered, thus allowing these robots to operate without safety shields in benchtop applications. Even at full speed, their inherently safe design limits forces to meet ISO collaborative robot standards making these mechanisms safe to use even with people or delicate equipment inside the active cell
Powerful Motion Control
The PF400/300 feature a powerful embedded Guidance Motion Controller. This controller offers unique free mode teaching aids and excellent capabilities for automatically generating elegant and reliable motion sequences. It permits you to program smooth straight line and arbitrarily complex paths by simply moving the sample handler by hand to start and end positions and letting the controller handle the rest. Combined with the collaborative nature of these mechanisms, the PF400/300 offer unique features such as compliant placement, which is an auto centering aid to reduce failures due to fixture or sample variations, and automatic sample Z-height detection.
1.4 Second Cycle Time
This distinctive SCARA design can perform the industry standard pick-and-place cycle time test in 1.4 sec when carrying a 1kg load. This is only slightly slower than many non-collaborative industrial robots and comparable to human operators. Even at the fastest speeds, the PF3400 limits free space collision forces to under 100N and rigid collisions to under 150N.
Space Saving Design with Huge Working Volume​
In addition to offering a competitive price comparable to non-collaborative robots, the PF3400's unique mechanical design is optimized for collaborative table top applications. This lightweight robot can be carried by one person, mounted on a table and, by plugging in just an AC power cord and an Ethernet cable, is ready to operate. The controller, power supplies and harnessing are embedded within the robot's structure, eliminating external controller cabinets and simplifying installations. Due to its novel configuration, the PF3400 can work in cells with very compact foot prints while providing the extraordinary vertical reach of up to 1.2M and up to 2M horizontally when mounted on an optional linear rail.


PreciseFlex 3400 Information Request