What is Flexible Automation?
Flexible Automation is a concept that allows a production cell to be re-tasked quickly and easily.  This allows for multiple automation processes while requiring minimal change over.  The main challenge has been dealing with parts that are difficult to feed and those with high mix / low volume.  Traditionally, automation has been cost prohibitive for many of these applications.
Investing in automation with Redeployable Assets now makes these applications feasible.  Grouping key components together typically proves for a very fast return on investment.  Risk is reduced as these components can be deployed to other automation tasks with minimal effort.
What's in a Flexible Automation Cell?
The contents of a flexible automation cell are pretty simple.  It boils down to to four main components that allow the cell to receive, sense, and manipulate the desired object. 

Why use Flexible Automation?
The key words are re-deployable assets.  Being able to adapt and re-task on the fly allows you to keep production cost fixed regardless of whether you are running small or large batches.

If you look at the graph below, you can see the value that a flexible solution brings when compared to traditional fixed automation or manual solutions.  If you look at the Return on Investment for a fixed solution, it only makes sense for when your facility manufactures the same part over and over again.  Once your production goes to medium/high mix, then manual labor comes out on top. This is something that has kept many facilities from automating in the past. 

However, given the past year and the extreme labor sourcing issues that many manufacturers are facing, the manual "solution" becomes less and less feasible.  But with flexible automation, you can keep your costs reduced and have a much quicker return on investment while also preparing your company for any future pivots.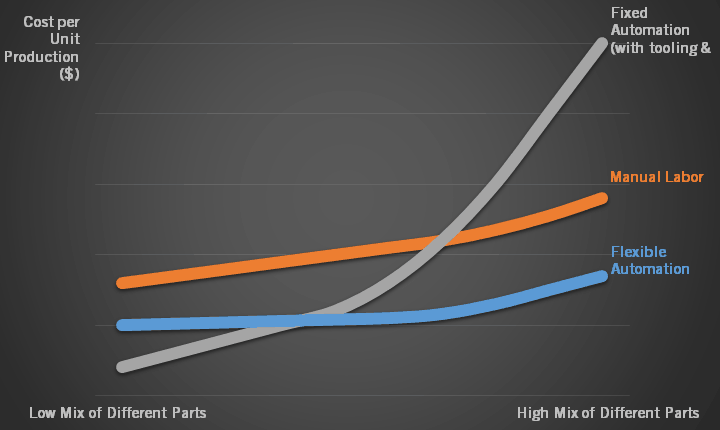 BlueBay Automation
"Your Automation Experts"