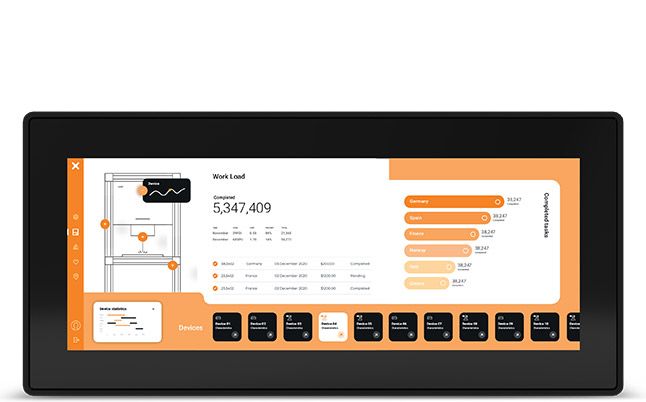 eX712M Web
The WEB based HMI eX712M by EXOR International offers a revolutionary UI, unlike anything seen in the industrial sector. HTML5 web application interfaces are used to display and interact with real time data.
The eX712M can easily display HTML5 data from multiple devices. The glass projected capacitive touchscreen and the brilliant 12 inch ultra wide display with resolution of 1920x720 guarantee great optical performance for landscape and portrait operation. With the support of multitouch gesture programming they can create the most natural human interfaces
Chromium based HTML5 Browser
Easy to use browser setting application
12 inch color display, resolution 1920x720 pixel
Dimmable LED backlight
Projected capacitive touchscreen. True glass design.
Multitouch operation
Operating Temperature -20°C to +60°C
IECEx, ATEX, DNV-GL, cULus, cULus: Class 1 Div 2
The WEB HMI eX712M by EXOR International is the ideal choice for all demanding IoT edge applications in factory, marine and building automation where powerful and performing HTML5 web browser is needed.
It combine state-of-the-art connectivity features and top web browsing performance in a great designed and robust HMI. eX712M HMI include a Chromium based HTML5 browser supporting kiosk mode operation. Supports Corvina Cloud secure connectivity with full network separation.
---
eX712M Web Information Request