How is Mass Data Aggregation Accomplished? 
Nearly any application in the industrialized world poses a common challenge: aggregating data from discrete locations throughout the plant.  This can be seen as a daunting task, but in actuality there aren't nearly as many components as one would imagine.  We've categorized these into five different spaces.
These areas can be seen below from a local to high level data overview: 
Edge Devices (End Points)
Equipment Sensors,  Equipment Controllers or servers and devices
Data Aggregators
HMI/ PLC Gateway, Protocol Converters
Cloud Based Services
Dashboards as well as Databases
Applications
Databases and SCADA Interfaces
Human Intervention
IT Staff, Technical Staff, and IT infrastructure
Visualization of IIoT Layers
If you take a look at the layout below that was created by Exor, you can see a map of how all of these components work together to form an operational system.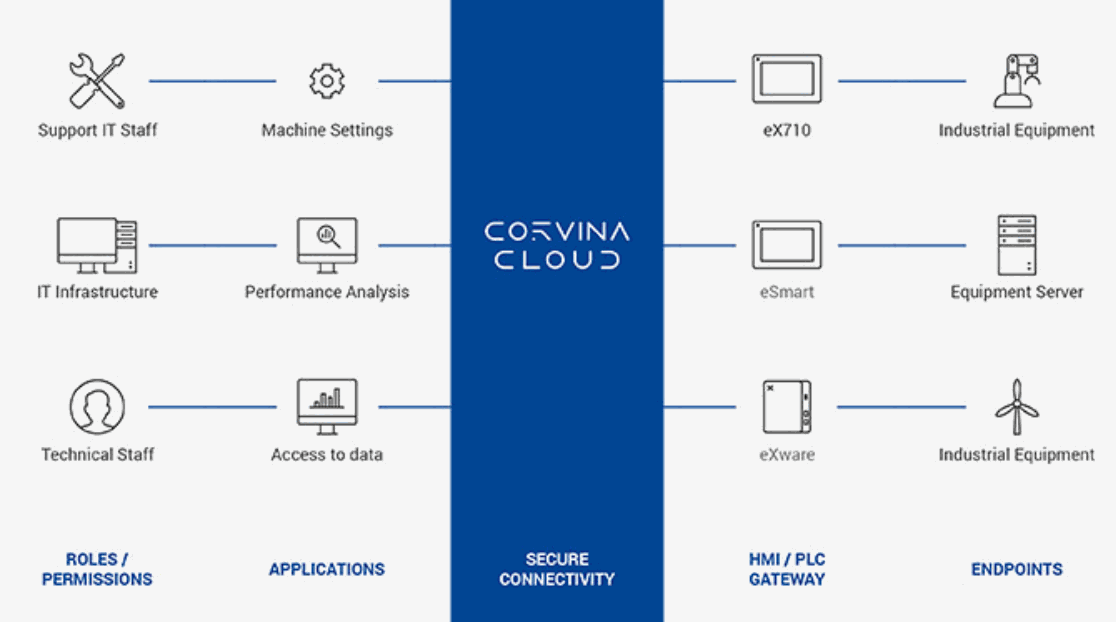 ---
How Can

 

BlueBay Help You?



Bring your Machine's OEE to the forefront! 
Machines with a PLC have everything we need at our disposal to grab the data you need to analyze a plantwide visualization level that can be seen at your office or even a from your cell phone. The hardware implementation can be easy and may be as simple as a single data aggregator such as a protocol convertor.
What KPIs are important to you? 
Lowering scrap rates? Fixing tolerances? We all have KPIs (Key Performance Indicators) that we need to hit, but sometimes finding the right path to success can be hard.  BlueBay has experience in optimizing your machine from the top down, using data as our guide. Get in touch with us and we can talk through your application and ultimately find your solution.